TURF-TEC
DIGEST
FOR GOLF COURSE SUPERINTENDENTS AND SPORTS TURF MANAGERS
By: John Mascaro
Volume 7 Number 3 - October 2001
In this issue:
Editors Notes, I was one of the eight who made it to Kansas for the GCSAA's 75th Anniversary.
The year in review, photo section of my travels for 1999, 2000 and 2001.
It's a sign of the times.
New - step by step analysis of your Golf Course or Athletic Field.
First ever Turf-Tec electronic coupon.
Looking back.
Contributions to this publication.
Privacy policies.
------------------------------------------------------------
Editors notes, I was one of the eight who made it to Kansas for the GCSAA's 75th.
First and foremost I want to say that my thoughts and prayers go out to the families of the 3000 plus people who lost their lives and the families that were directly affected by this tragedy. And let me assure you that what I experienced cannot ever compare to the loss that many families experienced over this terrorist act of unthinkable horror.
My flight was scheduled for early morning on September eleventh so I could be in Kansas City for the Historical Preservation Committee Meeting at 1:00 that same day. My flight from Ft. Lauderdale to Atlanta arrived in Atlanta at 7:15. I boarded a plane at 8:15 and was in route to Kansas City when the attack on our country began. It was only later that I learned that my flight time coincided with the other flights that were hijacked.
The captain of our plane at 8:45 (9:45 eastern time) notified us that there was a collision of two aircraft into the World Trade Center and that the FAA was halting all air traffic. Since we were on final approach into Kansas City we landed safely at 9:24. It wasn't until we landed that we found out by passengers with cell phones the true horror of what really happened.
I got my luggage and headed to the curb to wait for my shuttle bus. The scene was strange, there were no cars parked along the curb, in the distance; air raid sirens were sounding. After 20 minutes, the shuttle bus arrived, it was not until I made it to the Kansas City Marriott and checked into my room and turned on the TV that I myself found out the true tragedy and horror of what was really going on.
After an hour I learned that five other people had made it to Kansas, among them were Bruce Williams from Los Angeles CC, Cliff and Myrtle Wagoner, from Modesto, CA and Sherwood and Marie Moore, from Brewster, MA. GCSAA contacted us at the hotel and we met in the lobby and they moved us to Lawrence, to whom I was grateful, because I personally wanted to be as far away from the airport as possible. In Lawrence we met up with Jerry Faubel, Superintendent at Saginaw CC, Saginaw, MI and his wife Sally who made the last portion of their trip by bus because their flight landed at an airport outside of Kansas City.
There were a total of eight people who made it to Kansas. As you are aware, all committee meetings and the 75th were canceled, which I believe that GCSAA made the best decision to insure the safety of all of its members and their families. GCSAA took us to headquarters, allowed us to use office areas and arranged through GCSAA travel the safest and earliest transportation back to our homes and loved ones. After arriving at the Kansas City airport at 5:00 AM, I was the first one to leave on a flight that was not canceled at 8:00 am on September 14th. This turned out to be the second flight to leave the Kansas City Airport.
When I arrive in Atlanta, the scene was very strange; the airport was almost deserted. Most of the shops and restaurants were closed and the train that takes you between terminals had only four people per car. After several delays, I finally arrived in Ft. Lauderdale at 4:00 PM that same day.
The reason for writing about my experience is because I wanted to really write a huge thank you note to GCSAA, GCSAA Travel and everyone who made it possible for me to get back home safely. Thank you Steve Mona for extending us GCSAA's staff people to assist us. Susanne Clement, thank you for coordinating our travel and making sure we had whatever we needed at the expense of your own personal time. Becca Bruce, thank you for coordination our trips to and from the hotel to headquarters and offering us courtesy. Thank you Margo Campbell Szabo for also assisting in our travel while we were in Kansas.
Also I want to thank all of the GCSAA staff at headquarters for extending us so much courtesy that I would have to name everyone in the building who asked us at one time or another if we needed anything. I especially want to thank GCSAA Travel for being on top of our travel arrangements and the amount of time that they spent changing tickets for all the flights that were scheduled and canceled and rescheduled and canceled again. In all the chaos, I believe that the people who had more anxiety then we had were our families who were apprehensive about our safe returns. For the people that were stranded in Kansas, GCSAA and GCSAA travel made it as pleasant as possible due to hard work and their ability to get us all home safely.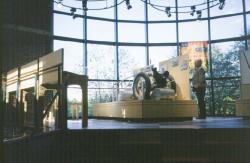 For all of those who missed seeing headquarters, I am truly sorry, the building is beautiful. The staff had placed historical exhibits throughout the entire building, including the lobby exhibit. The sculpture of Old Tom Morris is very impressive and the bricks that people have purchased surround the sculpture in a truly beautiful design in front of the entrance doors. I am saddened by the tragic turn of events that caused to cancellation of our association's 75th anniversary, and when people look back at this time on our 100th year anniversary, I hope that they remember that the GCSAA truly fulfilled it's mission of being "dedicated to serving its members" and I in fact, have been touched by it's dedication.
-----------------------------------------------------------
The year in review, photo section of my travels for 1999, 2000 and 2001.
I have recently added about 40 pages to my web site which include seven pages that are a kind of tour of my travels for the end of 1999, the year 2000 and the first half of 2001. I show over 40 photographs of Golf Courses, Sports Fields and some of the conditions that I encountered in my travels. Here are some of the places that are pictured on the web page at the following link:
http://www.turf-tec.com/year00-01.html
Pro Player Stadium, home of the Miami Dolphins.
The Miami Dolphins Training Camp.
Key Biscayne Country Club, Miami, FL.
Old Marsh Country Club, Palm Beach, FL.
University of Florida Envirotron.
Boca Rio Country Club, Boca Raton, FL
University of Florida, Florida Field, Gainesville, FL.
University of Miami, Miami, FL.
Pine Valley Golf Course, NJ.
Golf Course Superintendents Association Headquarters, Lawrence, KS.
Superbowl XXXV, Tampa Stadium in Tampa, FL.
The University of Tampa, Tampa, FL
Orioles Spring Training facility, Ft. Lauderdale Stadium, Ft. Lauderdale, FL.
Ft. Lauderdale Country Club, Ft. Lauderdale, FL.
Old Collier Golf Club, Naples, FL. Seashore Paspalum.
Florida Atlantic University, Boca Raton, FL.
Take the tour at http://www.turf-tec.com/year00-01.html It is worth you while!
-----------------------------------------------------------
It's a sign of the times.
Well any newsletter I write would not be complete without a little imagination and conjecture. So, I was just thinking about how dependent on technology we have become. Several weeks ago, I had an idea and wanted to be sure I saved it. I turned on the computer and waited for it to boot up, as I waited, I got one of those cute little error messages so I had to shut down the computer and as I was waiting for it to boot up again, I had revelation, why don't I just write it down on a piece of paper? Problem solved, idea captured.
Well as this preface shows, many of us we have become so reliant on modern devices that we often forget that the simplest way to accomplish something is often the best.
Here are some common examples that I have seen (and also am guilty of committing one or two).
It's a sign of the times when you:
When you turn on the Weather Channel before looking out the window.
When you would never forget to check your email but the mail in your mailbox was left out over night, possibly longer.
When you surf through 60 cable television channels to see what's on before picking up the TV Guide.
When you see a worker spend 30 minutes mixing up some weed killer to spray one weed that would have taken 2 seconds to pull.
When you submit a soil sample for a nematode analysis before looking at the roots.
When you turn on the sprinklers before checking the moisture in the rootzone.
When you aerify an area before knowing the percentage of compaction.
I am only pointing out how easy it is, with vast amounts of information at our hands; to forget the simple things. Try to keep this in mind today when you start your normal activities and you may perhaps see things differently. If you want, write yourself a note that says, "Keep It Simple" and put it on your visor as you drive into work today. Now, where did I put that pencil and paper anyway?
------------------------------------------------------------
New step by step analysis of your Golf Course or Athletic Field.
Now there is a new step by step way to analyze your Golf Course or Athletic Field. I have changed my web site considerably to offer both Golf Course Superintendents and Sports Turf Managers a way to analyze your own turfgrass areas. This step by step method is located on my web site under the Golf Course category for golf courses and under the Sports Turf category for athletic fields.
Step by Step Analysis of Golf Courses -
http://www.turf-tec.com/index-g.html

These section aids in analyzing your soil on your golf course for problems like layers of dissimilar materials, heavy thatch or mat layers, compaction and shallow roots. Also water conditions can be analyzed for wet areas, hydrophobic spots, disease and poor infiltration.
In addition, grass problems like thin turf, disease or leaf lesions and thin turf in wear areas are also touched upon. Nutritional problems can be analyzed for yellow or off colored turf, disease and thin turf that responds poorly to fertilizer.
And last but most importantly of all, management problems like ball marks, standing water, weed problems like poa annua and dead areas can be analyzed.
Step by Step Analysis of Athletic Fields -
http://www.turf-tec.com/index-s.html

This section aids in analyzing your soil on your athletic field for problems like compaction, shallow roots, dissimilar layers and heavy thatch or mat layers. Also water problems on athletic fields are analyzed for wet areas, dry spots, disease and poor infiltration.

In addition, grass problems like thin turf, disease or leaf lesions are looked at as well as thin turf in wear areas. Nutritional problems can be analyzed for yellow or off colored turf, disease and thin turf that responds poorly to fertilizer. Also Management problems like standing water, weed problems and dead areas can also be analyzed.

------------------------------------------------------------

Electronic Coupon!

First ever Turf-Tec electronic coupon - If you mention this newsletter when you order one of Turf-Tec's products, you will receive 5% off your order within the month of October 2001.

------------------------------------------------------------

Looking back.

Last month I was fortunate to have been at the GCSAA's headquarters building in Lawrence Kansas last month. I cannot tell you how proud I was to see the sculpture of Old Tom Morris standing outside the front doors, keeping watch on the future of this fine organization. When I made my first trip to GCSAA headquarters, it was in October of 1994. The building was a very nice office building but you could not tell what type of organization was housed inside. Even upon entering the building, the lobby was impressive with a large atrium, but whose building was this? The atmosphere was very professional, but lacked a feeling of who we were.

With the vision of Joe Baidy, Superintendent of Turning Stone Casino Resort, Verona, NY, he formed a Historical Preservation Resource Group, which eventually became the GCSAA Historical Preservation Committee.

It was his intention to first assure that any historical documents already at Headquarters were accounted for and preserved. Next the committee took on the task of inventorying all the items that GCSAA already owned. Over a period of time, the GCSAA began seeking outside donations of books, slides, periodicals and some small equipment.

The intention of the committee was to create traveling exhibits that could be sent to various locations to promote the history of the association and also gain recognition for it and its members.

The most dramatic outcome of preserving the history of our association I have seen is at the headquarters building itself. Outside the building stands the statue of Old Tom Morris, inside the atrium is the new historical display and on the wall of the lobby hangs the portraits of the past presidents. There is no doubt that when anyone walks into headquarters, they have a sense of knowing exactly what type of organization we are and also that we have pride in where we came from and where we are going. If it were not for the vision of one man, we would not be as rich of an organization as we are today.

Remember, with recognition, comes advancement and with advancement, comes rewards. Contact GCSAA and get a small display to exhibit at your club before a major tournament. Keep in view; get your mail sent to the clubhouse. Be seen; have signs promoting yourself as prevalent as the ones for the golf professional. Remember where we came from but do not forget to look at where we are going.

------------------------------------------------------------

Contributions to this publication.

I also want to invite all of you recipients of this newsletter that if you wish to contribute any information that you find interesting or exciting, please send it to me and I will include it along with crediting its source.

Also, if you know another Golf Course Superintendent or Sports Turf Manager that would like to receive the Turf-Tec Digest, have them forward their email address along to me. In addition, I get most of my new product ideas from Golf Course Superintendents and Sports Turf Managers who see a need in the industry that has not been filled. Be sure to look at the new product section on my web site for new additions.

http://www.turf-tec.com/Map.html

------------------------------------------------------------

Privacy policies.

If you received this newsletter directly from

john@turf-tec.com, don't worry. I personally acquired your name by researching each golf course and sports facility individually. In addition Turf-Tec does not buy, sell, trade or share their mailing list with anyone. We also have taken security measures to insure that your name will not be passed along to other people. If, however you still do not want to receive this newsletter, simply respond to this email with the words "remove" in the subject line and your name will be permanently deleted from our list.

If you have already asked for your name to be removed, and it has been added back onto the list I apologize. We constantly update our list and it is possible that if you were removed, you may have been added again. To insure this does not happen again, I am creating a separate file of people that request to be removed and I will try to keep this updated as well.

------------------------------------------------------------

If you have not received your new free 2001 Turf-Tec Catalog call us toll free (800) 258-7477 or email me at

john@turf-tec.com or fill out the online form at http://www.turf-tec.com/form.html

Home / Search Site / Catalog / Online Ordering / Map of site / Newsletter / On line consult / Contact us
History / Web Designs / Request Catalog / Search Engines
*Copyright 2001