TURF-TEC
DIGEST
By: John Mascaro
Volume 5 Number 1 - November 1999
In this issue:
1. Web Site information.

2. Infiltration awareness month.

3. Search engine update.

4. Soil Temperature.

5. Turfgrass links.

6. Snake oil update.

7. A quick look back.

8. Privacy policy.
Turf-Tec introduces a new web site!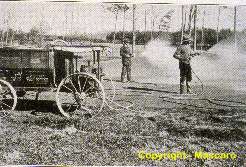 We are proud to introduce our new web site. It contains information on soil, grass, water, nutrition and management tips. There is also a section on antique golf course equipment. In addition you can submit any turfgrass question to John Mascaro for a free, on-line consultation. The web site is at the following address: http://www.turf-tec.com
This month is Infiltration awareness month.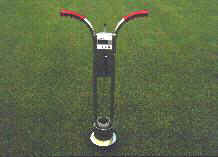 As Fall is now here it is a great time to measure your infiltration rate with the Turf-Tec Infiltrometer. These Fall readings can then be compared to your Spring readings to determine how the green fared through the Winter, and also what types of aerification will be needed to bring the green back up to Fall infiltration standards. Remember when checking infiltration; be sure to use a moisture sensor. Moisture readings should be identical each time you use the Infiltrometer. This will insure that the next time you check infiltration, the readings will be easily comparable.
Is your search engine running like an Edsel?
I surf the Internet a lot for information relating to turfgrass. In the past I would search for "Fairy Ring" and all my search engine would find was information on the "Tooth Fairy". If this sounds familiar, I wanted to pass along a very valuable (and free) program that I have come across. It is called Web Ferret and it is an actual program that you need to download off the Internet. It is only about one megabyte in size. What this program does it uses ten search engines at one time and returns you the first 500 matches! You can download this free program at the following address:
http://www.zdnet.co.uk/software/hot/feb1998/ferret.html
Is your soil running a temperature?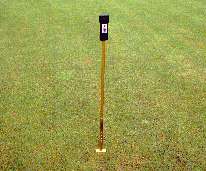 As Fall is upon us, we hope that soil temperatures stay very predictable for you. However, we all deal with Mother Nature and she has a nasty habit of playing with weather like a child plays with a neighbor's toy. So regular monitoring with a Turf-Tec Digital Thermometer is a real help in allowing us to sleep soundly at night, because we are the only ones on the block who know if our grass roots are growing. Also, we "in the know" can figure out when those pesky insects are going to be stirring again. We also know if those weed seeds are going to germinate or will they remain in that blissful slumber we wish would continue forever!
The best turfgrass links site ever!
If you want links on turfgrass areas, well here is a site just for you. It is brought to you from the folks at Michigan State University.
http://www.msu.edu/user/karcherd/turflinks/
Cutting edge chemicals or snake oil?
Well, the chemical companies continue making some pretty unbelievable claims and figuring out what they can stuff into a bottle next. As a Turf-Tec customer, I am sure you realize the importance of cultural turfgrass practices. There is nothing that will compensate for live, white grass roots growing in soil with good air exchange and a healthy microorganism population. To insure this occurs, be sure that you examine the soil profile with the new Mascaro Profile Sampler this Fall. This will insure that the air exchange is good and not building up those nasty anaerobic microorganisms that can persist over Winter and raise their ugly little heads in the Springtime (if you could see their heads). With a good handle on turfgrass soil culture, you will insure disease and insect resistant turf.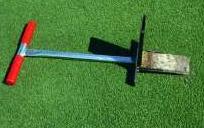 A quick look back!

In February 16th, 1922 issue of the "Bulletin Of Green Section Of The USGA" it states the following: "Grass roots and deep rooting. – All perennial grasses make a new set of roots each year, or in other words, the roots are annual. These roots extend vertically and fill the soil with their slender branches. The depth of which the roots extend depends in part on the kind of grass, but more on the character of the soil. Looseness, richness, and dryness in a soil tend to induce large root systems. Even in poor sand, grass has an enormous root system. On the other hand, compactness, poorness and dampness in a soil tend to restrict root development."

It is amazing how much we can still learn from the past.

Privacy policies.

If you received this newsletter directly from

john@turf-tec.com, don't worry. I personally acquired your name by researching each golf course individually. In addition Turf-Tec does not buy, sell, trade or share their mailing list to anyone. We also have taken security measures to insure that your name will not be passed along to other people. If, however you still do not want to receive this newsletter, simply respond to this email with the words "remove" in the subject line and your name will be permanently deleted from our list.

If you have not received your free 1999 Turf-Tec Catalog call us toll free (800) 258-7477.

Home / Search Site / Catalog / Online Ordering / Map of site / Newsletter / On line consult / Contact us
History / Web Designs / Request Catalog / Search Engines
*Copyright 1999