TURF-TEC
DIGEST
FOR GOLF COURSE SUPERINTENDENTS
By: John Mascaro
Volume 6 Number 4 - November 2000

In this issue:
From out of the swamp, emerged a fairway.
Is your grass spoiled rotten?
My pilgrimage to Pine Valley and a visit with the Guru of all Superintendents, Eb Steiniger.
Are golfers entitled to know about agronomy?
Lasermower trims grass, clips wallet.
Fall is here!! Don't forget your Fall checkup.
Looking back.
Contributions to this publication.
Privacy policies.

From out of the swamp, emerged a fairway.
The New Mascaro Profile Sampler has been a very well received tool with its easy open hinge and unsurpassed soil profile quality. Now, I have invented a new heavy-duty cousin. I had several requests over the years to make the handle on the soil profile sampler longer so a person could "jump on it" to get it into the ground. I tried to hold my ground because, I reasoned, if the soil is that hard, I donít think it really has that much grass on it. Anyway, I did have to acknowledge that there are other areas of the country that may not have the sandy soils like we have here in South Florida. In fact, on October 3rd, I have been made aware that there is good reason for it. You see, on October 3rd, we had 18 inches of rain in a 24-hour period.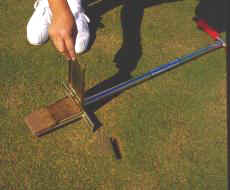 Needless to say, South Florida looked like the original swamp that it was before anyone moved in, with the exception of the large cement structures jutting out of the puddles and Lexus vehicles roaming through them like shiny water buffalo's looking for mates. Oh, sure, the alligators were quite happy as were the mosquito's, but the human residents had to take a back seat while the original residents were laughing at us, wading around in puddles with our slacks rolled up to give the occasional water moccasin less of a tooth ache when they strike. But the truth is that most areas were back to normal within 24 hours after the rains stopped because of the incredible canal drainage system and high sand content soils.
But I digress; I was talking about the new heavy duty Mascaro Profile Sampler. Well it's rough and it's tough and it has a 30 inch long handle that you can jump on and it's cutter blade is made of 30% thicker steel then the original profile sampler. So for anyone that has fairways that they think cannot handle 18 inches of rain, this is the sampler for you. See the new literature at:
http://www.turf-tec.com/MPShdlLit.html

Is your grass spoiled rotten?
It has come to my attention that some people out there are raising spoiled rotten grass. You ask yourself, "Self, can grass really become spoiled rotten?" Well the definition of spoil is "to damage the disposition of by pampering". With the ease of watering and fertilization, many turfgrass managers are giving the grass everything it wants, many times even before it wants it. If you raise your children and always give them what they want, they become spoiled. Grass is the same way. If it is always well fed, always well watered, it will be expecting that every time. The best way to actually manage grass is to turn a cold shoulder. I know it is hard to do, when it looks at you with that cute lush green face and asks politely for a drink of water, even though you just gave it one ten minutes ago and now IT IS BEDTIME. If your grass is thirsty, donít give it a drink until the reading on the Moisture Sensor is at 25% in the root zone. If it is hungry, wait a day or two until you see the amount of clippings in the basket to fall off a little.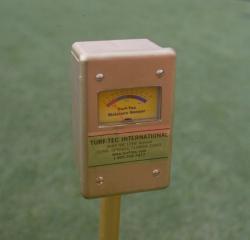 You see, if your grass is a little thirsty and a little hungry and a problem develops, like a grass munching insect or a rampant turfgrass pathogen, you can always give the turf a little more of what it's lacking to mask the affects of the problem. However, if the grass is spoiled, and you have a problem, what can you do to mask the affects?
So be alert, turn a cold shoulder every now and again. In the long run your grass will grow up better, be well adjusted and some day, it may even thank you for it.

My pilgrimage to Pine Valley and a visit with the Guru of all Superintendents, Eb Steiniger.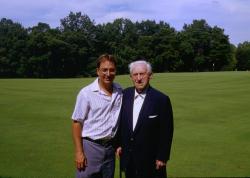 In early September I was presented with an opportunity to go to the Philadelphia area for two days. I immediately thought of visiting Eb Steinger. I found my way to Eb's house and it was a real treat to see him again. The last time I saw him was at the Mascaro / Steinger Museum dedication at Penn State University in 1993. I try to talk to him every month by phone and he is still as wonderful and kind as ever. However, it was a real treat to see him in person again. We visited for a while and then drove over to his old stomping grounds, Pine Valley where he had been superintendent for fifty-seven years. We met with Rick Christians, who is superintendent and has been at Pine Valley now for fourteen years. The place looked great. Eb, who is now 94 years old is almost totally blind, was able to guide me around on the golf course like he had 20/20 vision. In fact on one occasion I thought I was totally lost and Eb kept telling me to drive straight ahead and turn at the next tree. I had to remind him that he could not see, just then, there was the tree and I never corrected him again.
It is amazing to see such a course with the man who not only helped in 1927 with Pine Valley's grow in, but also planted almost every tree on the course. Eb would go to the Forest Department of New Jersey and get over 1000, 3-5 year old seedlings of White, Red, Scotch, and Loblolly Pines and plant them each year. In addition he would go out into surrounding forests and dig up anything that was native to that part of the country including Holly, Swamp Magnolia, Cedar and Dogwood Trees as well as Mountain Laurels and bring them back to Pine Valley to plant to help stabilize the soil. His love for nature will always be memorialized in the course's lush pine forests and challenging layout.
Eb also just received the Piper and Oakley Award from the United States Golf Association Green Section because of his lifelong devotion to the USGA by way of writing articles and assisting with the education of many fellow superintendents. He is a rare individual who is clever, talented and as I am proud to say, a great friend.

Are golfers entitled to know about agronomy?
I was posed just that question a couple of months ago. Below is a survey submitted to GCSAA Committee Members. I wanted to pose it to all my newsletter readers in hopes of getting some feedback.
-------------
Question:
Do you believe that having a basic knowledge of agronomics (such as different types of grass; characteristics of surfaces such as sand, pine straw, bare soil; drainage patterns; etc.) will help the middle-to-high handicap golfer toÖ
Answer (check all that apply):
1. Enjoying the game more.
2. Have a greater potential to improve scores.
3. Develop a greater respect/appreciation for the golf course.
4. Has little or no impact on enjoyment, respect/appreciation, scoring.
-----------
My answer was yes to #1, 2 and 3.
However, this answer needs to be taken with many grains of salt. When you speak agronomics to golfers it needs to relate to the game of golf.
1) Different types of grass; - How they affect putting surfaces and ball roll.
2) Characteristics of surfaces such as sand, - Bunker sand tests help golfers have better shots out of them if the correct sand is in place.
3) Pine straw, - roughs can be kept clear of weeds and prevent erosion with pine straw.
4) Bare soil; ??? - You don't want this if you are a golfer or superintendent.
5) Drainage patterns - Improving drainage helps keep fairway landing areas dry.
Also:
6) Aerification - a necessary evil to promote soil health and keep putting greens soft so balls hold and roll true after landing.
7) Verti-Cutting - was invented to be sure the ball rolls true on putting greens.
I guess you can see where I am going with this. Superintendents don't need more experts in agronomics; they need a hand with teaching why certain practices like aerification are performed. These operations that literally "tear up" the golf courses are performed to actually aid the golfer in the long run. This will keep the course in good condition and keep golf scores low!
I believe that all aspects should relate to a low score and golf, not turf.

Lasermower trims grass, clips wallet.
The below entry was sent to me by an alert Turf-Tec Digest reader, Jim Latham, Retired Director, USGA Green Section Great Lakes Region. Thank you Jim.
Original article By Drew DeSilver, Seattle Times business reporter. Tuesday, September 5, 2000.
It's a sporty European model - German, to be precise, with a Mercedes heritage. A technologically advanced two-seater convertible, it's called the Zero, but the price tag has four: $30,000.
Oh yeah, it cuts the grass pretty well, too.
In a world of designer vinegar's and $300 scooters, it probably was inevitable that the German manufacturer Wolf would come out with a luxury lawn mower using laser beams - that's right, lasers - to keep the sod smooth.
But even in our cash-rich, gizmo-besotted town, is there anyone who would shell out 30 G's for what is, after all, just a lawn mower?
"I would bet there are at least one or two people between here and Bellevue who would be interested," said Rich Stormer, hydroseed coordinator for JB Instant Lawn in Redmond. "There certainly seem to be a lot of people around with money to spend on all kinds of things."
Stormer - whose instant reaction on being told about the lasermower was "Holy cannoli!" - said he doubted whether a lawn would get that much better a cutting to justify the expense.
But Gail Martinez, a saleswoman at Smith & Hawken in Bellevue, said the Zero might make sense for a golf course or large turf farm.
Martinez, who has a horticulture degree from Texas A&M, said the lasermower presumably would eliminate the need to clean, sharpen or replace blades. And if, as Wolf claims, the Zero truly cuts grass so finely that the clippings can be left on the ground as fertilizer, so much the better.
It would be even more attractive, Martinez said, if a gasoline engine didn't power it.
The Zero would have to prove itself in the commercial field before the cost could come down enough for the home market, she said.
The Zero is fashioned from a Mercedes Smart car; the low-noise laser cutter is housed in a vacuum-cleanerlike appendage on the front of the mower.
Wolf, which also makes traditional lawn mowers, is presenting the machine at Gafa, an international gardening and recreation fair this week in Cologne, Germany. If dealers attending the fair show enough interest, Wolf will put the Zero into production, with availability in 2002.
Copyright © 2000 The Seattle Times Company

Fall is here!! Don't forget your Fall checkup.
Well now that Fall is here, donít forget to take your Fall infiltration readings. These reading should be taken before and after Fall aerification. In addition penetrometer readings should also be correlated with the infiltration readings so you have a good picture of the soils health before winter sets in. These readings will also point to which greens have the potential of holding more water in the winter and causing root-based diseases in the springtime. Infiltration rates will also allow for planning of areas to renovate in the spring. Remember that greens with less than 8 inches an hour need to be looked at closely and greens with four inches an hour need renovation.
A Turf-Tec Digital Thermometer is also a necessity in the Fall to check soil temperatures. These thermometers also allow soil temperatures to be monitored under turf blankets without having to disturb the turf while it is comfy and sleeping.

Looking back.

I have found that with today's high tech world, sometimes the most basics in Fall fertilization get overlooked. I started a quest, searching for information on the ancient practice of Fall potash fertilization. To my dismay, there is very little current information that is available. In many instances, it is just a one-line note that assumes that everyone remembers turfgrass 101 and that it must be mentioned as a token afterthought. If it were omitted, the reader would think, "that author doesn't remember turfgrass 101".

I think the most common reason for the fazing out of Fall potash fertilization is that it doesn't give any real visual response when it is applied. When nitrogen is applied, within several hours you can see the grass greening up. In fact, the next day, you can even hear the grass growing. Potassium is a silent helper. It doesn't give any visual response but it does fill the plants reserves and in the spring, the results will pay for themselves 100 times over with fewer weeds because of increased growth and more vigor and winter hardiness of the turf.

As I found when I looked back 79 years, in the October 17, 1921 issue of THE

UNITED STATES GOLF ASSOCIATION GREEN SECTION RECORD:
The record states: "Rate of application: The following recommendations for fertilizing putting greens are given for those who have not had much experience in the matter of the use of these materials. It is not claimed to be a perfect combination for all soils, but it is safe and sane. The proportions should be changed when experiments indicate such change is desirable.
For a complete fertilizer to be used once a year, preferably in the spring (or the phosphate and potash may be applied in the Fall and the nitrate withheld until spring), the following is suggested:
Ammonium sulfate ............................ 250 pounds
Bone-meal ...................................500 pounds
Muriate of potash ........................... 100 pounds
This mixture should be applied at a rate not to exceed 20 pounds to 1,000 square feet of surface. During the summer two or three applications of ammonium sulfate may be made at the rate of not to exceed 6 pounds to 1,000 square feet. If desired, nitrate of soda may be substituted for ammonium sulfate by using the same quantities."
In more recent writings I found in 1998 Research, Penn State recommends "Potassium or potash, helps turf grass resist disease and improve winter hardiness."
In 1999 Penn State University also notes that "The most common source of potassium fertilizer is muriate of potash or potassium chloride (0-0-60). Muriate of potash is a readily available source of potassium. It does have a relatively high salt index, which can, at very high rates, cause some salt injury to the crop. This is another reason for splitting high rates of potassium fertilizer into several applications.
However, the best recommendation I have found is in an article written by WILLIAM H. BENGEYFIELD entitled "Sage Advice From A "Young" Pup."
"All that glitters is not gold, and all that is new is not necessarily better.
You have heard it said and it's true: We live in the high-tech age! But I like what the Green Section's Jim Moore said about this in his Turf Tip a few years ago. He titled the article "Hi-Tech Can't Replace Common Sense!" Frankly, I wish we lived in an age having more common sense -but that may be expecting too much. Good common sense is one of the most important keys to good turfgrass management!
Very high potassium levels have been "in" in the recent past, but we knew potassium was important to cell wall thickness, winter hardiness, and wear resistance in the 1930s. There's nothing new here!"
Green Section Record May/June 1997 Vol 35 #3
To see this article in its entirety, (which is well worth a read) click here:
http://www.usga.org/green/record/index.html

Contributions to this publication.
I also want to invite all of you recipients of this newsletter that if you wish to contribute any information that you find interesting or exciting, please send it to me and I will include it along with crediting it's source.
Also, if you know another Golf Course Superintendent that would like to receive the Turf-Tec Digest, have them forward their email address along to me. In addition, I get most of my new product ideas from Golf Course Superintendents who see a need in the industry that has not been filled. Be sure to look at the new product section on my web site for new additions to the line.
http://www.turf-tec.com/Map.html

Privacy policies.

If you received this newsletter directly from

john@turf-tec.com, donít worry. I personally acquired your name by researching each golf course individually. In addition Turf-Tec does not buy, sell, trade or share their mailing list to anyone. We also have taken security measures to insure that your name will not be passed along to other people. If, however you still do not want to receive this newsletter, simply respond to this email with the words "remove" in the subject line and your name will be permanently deleted from our list.

If you have not received your new free 2000 Turf-Tec Catalog call us toll free (800) 258-7477 or email me at
john@turf-tec.com
or fill out the online form at
http://www.turf-tec.com/form.html

Home / Search Site / Catalog / Online Ordering / Map of site / Newsletter / On line consult / Contact us
History / Web Designs / Request Catalog / Search Engines
*Copyright 2000