TURF-TEC
DIGEST
FOR GOLF COURSE SUPERINTENDENTS
By: John Mascaro
Volume 6 Number 2 - May 2000
In this issue:
Ball marks.
Man falls five stories - lives to buy a lottery ticket.
Mow over tee markers - still a great new old idea.
World Golf Hall of Fame allows superintendents to be proud of their profession.
What does a soil profile sampler really show?
Copies, copies everywhere.
Looking back.
Contributions to this publication.
Privacy policies.
-----------------------------------------------------------
Ball marks.
Ball marks are probably the most common maintenance challenge on healthy golf greens. Soil technology for golf greens has become better and better for the grass plant, with high porosity rootzones that perk water well, and lots of air space between the sand particles for air, and lots of good healthy grass roots. These high sand content root zones also resist compaction much more then their predecessors, the push up green. However with this new technology, came some disadvantages, ball marks. The trade off is well worth the ball marks and in the perfect world where every golfer cared about the golf course as much as they cared about their own automobiles, they would always fix their own ball marks. However on your golf course, I am sure that ball marks do tend to become problematic from time to time.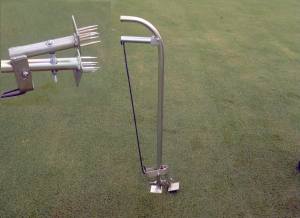 We have developed two new tools that will combat ball marks in two different ways. The Ball Mark Repair Tools 2 1/2" long stainless steel spikes are inserted into the ball mark and the handle is squeezed together. A slight lifting motion is used to raise the soil and the handle is released. This tool is a quick way to repair ball marks without bending over. Many courses are equipping their mower operators with these tools so ball marks can be repaired each morning before mowing. To see The Ball Mark Repair Tool click here:
http://www.turf-tec.com/ballmark.html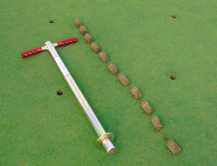 The second tool for repairing ball marks is the Duich Ball Mark Plugger. This 2 1/2 inch diameter plugger simply takes the whole ball mark out of the green. This is very beneficial for the worst ball marks that have damaged grass in the center of them causing unsightly blemishes and brown spots. The Duich Ball Mark Plugger is a specially developed plugger with a hollow handle. The tool is inserted over the ball mark, pressed into the soil, twisted and lifted out. The hollow handle fills up with the damaged plugs. The process is repeated at the nursery or edge of the green and the new plugs are simply inserted into the holes for a seamless repair that defies detection. To see the Duich Ball Mark Plugger click here:
http://www.turf-tec.com/Duich.html
-----------------------------------------------------------
Man falls five stories - lives to buy a lottery ticket.
This report comes from Walnut Creek, California by the Associated Press. Chris Hoyle heard the scream and looked up from her desk to see a man falling past her window - head first.
"His head was down, his feet were up, and he came whizzing by screaming," she told the Contra Costa Times. She ran outside and shouted to a man near the five-story building, "Is everyone all right? I saw a man fall off the roof."
"Yeah, that would be me," Ken Larsen, 34, told her. His arm was scratched and his shoulder bruised, but nothing was broken. In fact, he said, he landed on his feet.
Larsen had been laying telecommunications cable on the roof, walking backwards and pulling it. His co-worker holding the spool yelled, "Hold it a minute," but Larson was already stepping back - and off the edge. Halfway to the ground, Larson realized he might survive. The cable he still clutched was slowing his fall. After unwinding 65 feet of cable and crashing through tree branches, he had landed on his feet.
The paramedics who checked him over Thursday found only bruises and scrapes. "They told me to go buy a lottery ticket," Larson said. "And I'm going to."
No news yet on whether he had the winning ticket!
-----------------------------------------------------------
Mow over tee markers - still a great new idea.
Back in 1976, my father was visiting a long time friend, Otto Schmeisser at Indian Creek Golf Course in Miami, Florida. An retired gentleman teed up his ball from the blue tee's, shanked the ball and the ball hit the white tee marker, bounced back and hit the golfer in the face, knocking off his glasses.
Thank goodness that was in the day when layers had more important thing to do then star in television commercials about incidents like this. However, it did give Tom an idea about developing a new type of tee markers that would not allow golf balls to bounce off when struck. He came home, had me assist in disassembling an old desk lamp that we had lying around in the workshop and proceeded to make the worlds first mow-over tee marker. After several design modifications, we had a plastic mold made and the Turf-Tec Flush Tee marker was born!
After reading several items on GCSAA's talking turf, I noticed that many superintendents still make their own tee markers. Well I decided to inform everyone about an alternative that is not only lower maintenance but also allows the person that changes the cups to also move the tee markers. To see more information on the Flush Tee Markers, click here:
http://www.turf-tec.com/catalog-m.html#tm1
-----------------------------------------------------------
World Golf Hall of Fame allows superintendents to be proud of your profession.
For the first time in history, all of the major golf organizations have united to support and honor golf and its greatest players and contributors. The World Golf Hall of Fame - the heart of the World Golf Village - includes exhibits on many aspects of the game.

The facility's overriding exhibit philosophy is to balance exhibits that capture the traditions, values, and historical attributes of golf with exciting and contemporary exhibits that utilize the latest interactive technologies. The goal of the World Golf Hall of Fame area is to introduce golfers and non-golfers alike to the game's greatest players and contributors, and their remarkable accomplishments. The 71 members of the former Hall of Fame in Pinehurst, NC, and LPGA Hall of Fame were "grandfathered" into the new facility.
Within the structure is approximately 32,000 square feet of exhibits. Artifacts from the former Hall of Fame in Pinehurst, North Carolina, are incorporated into the museum exhibits, but the overall experience is intended to stimulate golfers and non-golfers alike through modern technology and interactive displays.

Director of the World Golf Hall of Fame, Karen Bednarski, was formerly curator of the United States Golf Association Museum and Library. Bednarski and the exhibit design team were determined to make the Hall of Fame cutting-edge and distinct. The building features high vaulted ceilings, broad windows, and large porches, indicative of the belief that a golf museum should reflect the airy, outdoor nature of the game.
Among the eclectic items in the 32,000-square-foot exhibit space are Sam Snead's lunchbox, a harmonica that belonged to Babe Zaharias, and a 1654 golf-related etching by Rembrandt. New exhibits will be added on a regular basis. The 18 hole challenge also features an exhibit (the 14th hole) that honors the Golf Course Superintendents called the "Keepers of the Green". The exhibit includes historical and modern practices of golf course maintenance including photographs and historical equipment used in maintaining golf courses through the years.
This is the first time that I am aware of the golf course maintenance has had such a high profile venue for showing our story as it pertains to the game. This is truly an honor to be represented at this level of recognition and every superintendent should see this exhibit and be proud.
Their web site is at the following location:
http://www.wgv.com/wgv/main.nsf/allframesets/wgv200e.html
-----------------------------------------------------------
What does a soil profile sampler really show?
Well this is a question that arises itself from time to time that really hits home for me. The question is "What does a soil profile sample really show?". Well the answer is everything. I always examine a soil profile to determine the overall health of the grass. I really do not care what color the grass is, what cultivar you have or even what degree of difficulty the hole is. However, the only thing that really matters is how healthy is the soil profile.
With today's surplus of information that is available at our fingertips, we often get caught up in plant physiology, soil chemistry, insect and microorganism population, disease presence and thresholds, microorganisms and many other aspects of turf health, that we often overlook the most obvious things. How are my grass roots? Are they white and growing vigorously, are they brown and old or are they black and should we have a funeral for them.
The soil profile can reveal the whole world of health for your grass plant. Pull a profile and go step by step and look at the grass blades, the thatch, the mat, the rhizomes, the roots and the root hairs. Next look at the soil, is it well mixed and without layers? If there are layers present, are the roots going through the layer or are they stopping. Smell the profile, does it smell like good earth of like sulfur. If sulfur is present that is usually a sign of poor air exchange and anaerobic conditions. Look for insect activity, is that a half of a worm laying there or is it a grub?
The profile is the all telling indicator of overall turfgrass health, and with a good healthy root system, you will be hard pressed to kill that grass no matter what stresses mother nature or golfers may inflict on the top 1/32th of the plant.
-----------------------------------------------------------
Copies, copies everywhere!
Speaking about soil profiles often gets my dander up from time to time. As you may or may not know, the Turf-Tec Soil Profile Sampler is the original soil profile sampler ever made. Back in 1942, Tom Mascaro (my father) had become a good friend with O.J. Noer, Agronomist for the City of Milwaukee Sewerage Commission (Milorganite). He had a prototype of a soil sampler that he wanted made and Tom made the Soil Profile Sampler for O.J., but as time passed, he began to sell them.
Well since that time, several people have tried to imitate the Soil Profile Sampler. However, no one has ever duplicated it correctly. Because of this, there are several poor imitations of the "profiler" on the market. They do not take samples that are truly undisturbed and in fact, often they do not even pull samples that are even six inches deep due to not understanding the dynamics of soil.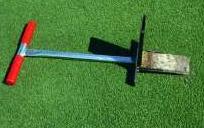 One thing you can count on with copies. If you design a better mouse trap, some rat will steal it! In fact, at the GCSAA show in New Orleans, one of these sampler companies came into my booth and had the nerve to tell me that they have a better sampler than ours (I have seen there sampler and it is the worst imitation on the market). They even offered that if we wanted to sell their unit, they would be happy to have us as a distributor. At that point, they removed the unit from the display board, and saw it was the new "Mascaro Profile Sampler" with the easy open hinge. They looked it over several different ways, asked where I purchased this type of unit from. When I told them that I manufactured it, she put it down, got some literature and left abruptly. I did not tell her it was patent pending, but you can count on one thing, if anyone ever figures out how to make it, it will be wrong! To see the REAL Mascaro Profile Sampler you can click here:

http://www.turf-tec.com/MPS2.html

-----------------------------------------------------------

Looking back.

Did you know Ö Tom Mascaro received many awards over his 65 years in the Golf Course industry. Many people assume that the reason for the awards was because he invented the Aerifier and the Verti-Cut, however, that is not the case. Tom always held the superintendent as a champion and information as the only way to improve one's standings. One example of this was what he did in the late 1940's through the 1960's.

Tom traveled to almost every turfgrass conference around the country and gave lectures on turfgrass. However, he always took a wire reel tape recorder with him. This was in the day before cellophane reels or "tape" was invented. He recorded the turf conferences, brought the tapes back to his office, and had his secretary listen to the tapes and type the proceedings. Then he had mimeographs (copies) made for every attendee of the turf conferences and mailed them out, free of charge. This was the first printed material from trade conferences available on turf in the country. I had a full set, over 250 of these, early turf conference proceedings which I donated to the GCSAA historical preservation. They are currently being cataloged and preserved and hopefully, in the future will be available to the members of GCSAA through information services department. It really is good reading!

-----------------------------------------------------------

Contributions to this publication.

I also want to invite all of you recipients of this newsletter that if you wish to contribute any information that you find interesting or exciting, please send it to me and I will include it along with crediting it's source.

Also, if you know another Golf Course Superintendent that would like to receive the Turf-Tec Digest, have them forward their address along to me. In addition, I get most of my new product ideas from Golf Course Superintendents who see a need in the industry that has not been filled. Be sure to look at the new product section on my web site for new additions to the line.

http://www.turf-tec.com/Map.html

-----------------------------------------------------------

Privacy policies.

If you received this newsletter directly from

john@turf-tec.com, donít worry. I personally acquired your name by researching each golf course individually. In addition Turf-Tec does not buy, sell, trade or share their mailing list to anyone. We also have taken security measures to insure that your name will not be passed along to other people. If, however you still do not want to receive this newsletter, simply respond to this email with the words "remove" in the subject line and your name will be permanently deleted from our list.

-----------------------------------------------------------

If you have not received your new free 2000 Turf-Tec Catalog call us toll free (800) 258-7477 or email me at

john@turf-tec.com or fill out the online form at http://www.turf-tec.com/form.html

-----------------------------------------------------------

Home / Search Site / Catalog / Online Ordering / Map of site / Newsletter / On line consult / Contact us
History / Web Designs / Request Catalog / Search Engines
*Copyright 2000