TURF-TEC
DIGEST
By: John Mascaro
Volume 5 Number 2 - December 1999
In this issue:
Putting the cart before the horse.
Is your turf year 2000 compliant?
Tom Mascaro's Slides on CD ROM!
USGA Green Section Record on CD.
GCSAA Conference and Show February 14-20th 2000.
An additional source of information on the Web.
Contributions to this publication.
Looking back.
Privacy policies.
------------------------------------------------------------
Putting the cart before the horse.
Sometimes, you just assume things like all you people that receive my newsletter already know who I am. Well I have gotten some email saying that they enjoyed the newsletter but "who are you?" So I will start from the beginning, My name is John Mascaro and I am president of Turf-Tec International. I have been with Turf-Tec since 1986. This newsletter, the Turf-Tec Digest I have been writing, off and on for the past 12 years however this is the second issue to be available online. I will try to make it a bi-monthly publication if I do not run out of things to say!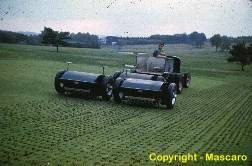 I feel that I have been in Golf all my life, and in fact I have. My father was Tom Mascaro and he was a inventor in the Golf Course industry, with inventions like the Aerifier (1946) and the Verti-Cut (1955) to name just two of the over 100 turf related inventions that he introduced. So growing up around Tom was interesting to say the least. He was always making something neat to either clean up leaves, cut grass better, or just be different. In addition, Tom was a speaker on all the Major turf conferences between 1946 until he passed away in 1997. Over his career, he photographed over 100,000 images on turf. Many of these slides will be incorporated into future versions of this newsletter as well as my web site. If you want to learn more about our company history, you can see it on our web site at the attached address:

http://www.turf-tec.com/ourhistory.html

Is your turf year 2000 compliant?

All the talk lately has been about year 2000 compliance of computers, banks, water supplies, electric supplies, nuclear arsenals and even irrigation systems. Well it has come to my attention that some varieties of turfgrass may not be year 2000 compliant. The fact that some turfgrass breeding programs used computers to aid in the genetic engineering of modern day turfgrass varieties is cause for real concern. According to some well respected turfgrass breeders, there are several things that you can do to assure that your turf is compliant. First, you need to inspect the rootzone with the new Mascaro Profile Sampler (see link at

http://www.turf-tec.com/MPS2.html ) on the week on December 26th, 1999, but no later then December 31, 1999 at 11:59 PM. Be sure to observe the rootzone and record your finding on a clean sheet of paper. Be sure not to record your data on a computer as this may be needed for a paper weight after January 1st 2000 to hold down your clean sheet of paper.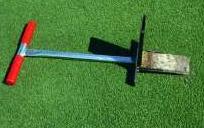 You may also want to preserve a sample of soil and grass by spraying it with clear spray paint several times until it hardens. This will give you a permanent record in case your turf is not year 2000 compliant.
After the new millenium, you will need to take another sample with the Mascaro Profile Sampler and compare it with the first. Look for changes in root density, rhizome activity and also turfgrass quality. If your turf is not 2000 compliant, the results could be as minor as a slight decline in root mass to the dreaded "total turfgrass crash" that has been feared. If the turf turns brown, the course of action needs to be swift. First take a Turf-Tec Digital Thermometer and insert it into the turf at the root zone depth and record the reading on your paperweight, I mean computer. If your computer still doesn't work, try the clean white paper again. If the temperature on the thermometer shows that the turf is still actively growing, you can foliar apply champagne at the curative labeled rate. Be sure to use a good brand name as hybrid turf usually prefers the better stuff. If the soil temperature shows that the turf is not actively growing, simply drink the champagne, and test again in thirty days.
Tom Mascaro's Slides on CD ROM!
The Golf Course Superintendents Association of America has just released 875 photographs from the late Tom Mascaro's slide collection. It is available through the GCSAA's information services department and all proceeds benefit the GCSAA's Historical Preservation Program. If you want to see a sample of some of the slides, I have added some sample pages to my web site at the following address:

http://www.turf-tec.com/CD/00INDEX.HTML

The CD ROM sells for $50.00 and it includes photographs in JPEG format in excellent quality of 80KB per image. The slides are grouped in categories of "Soil", "Grass", "Water" and "Nutrition". Text also appears on each image giving information. The CD also includes a web page format so you can view the photographs on the CD with or without an image editing program, in layman's terms, you can see the pictures just like viewing any web site. If you wish to order the CD, contact the GCSAA's at (800) 472-7878 and ask for the Information Services Department.

USGA Green Section Record on CD ROM.

The United States Green Section is now offering it's entire magazine 1921-1996 on CD ROM. USGA Green Section RECORD is a limited CD Series. This CD ROM puts 7 decades of facts, findings and the fine points of course maintenance on your personal computer!

The USGA Green Section RECORD magazine began publishing research findings, tips and techniques more than 77 years ago. Its value to the golf course superintendent has never been greater. Priceless copies of the RECORD are now on interactive CD ROM. You can search the decades, month-by-month, and put time- and money-saving facts at your fingertips!

The 11-CD series can be yours for only $49.95*. (Plus shipping and handling).

You can also order your personal subscription to the RECORD magazine at the same time! Published six times a year, it's the magazine of golf written and edited by agronomists and turf-care experts specifically for those entrusted with care of golf courses. To order your CD reference library and a year's subscription call the USGA Green Section at 1-800-336-4446 or follow this link at:

http://www.usga.org/green/index.html

GCSAA Conference and Show - February 14-20th 2000

The 2000 GCSAA Conference and Show is scheduled in New Orleans February 14th-20th. Turf-Tec International will be exhibiting at booth number is # 1961. On Thursday, February 17, 2000, I will be on the concurrent sessions "All That Jazz Between The Roughs". If you get a chance, be sure to come.

Here is the GCSAA's Conference and Show web site:

http://198.5.167.158/

The information on my concurrent session "All that Jazz between the rough" is as follows: Thursday February 17th, 2000, 1:00 - 3:00 PM. The session is about "Jazzing up your fairways with ideas that will improve the quality and playability of your golf course. Identify drainage problems and solutions, address the source of Poa trivialis found in many creeping bentgrass fairways, learn the proper use of pyrethroids to maximize insect control". You will also be able to "understand the evolution of aerification and cultural methods to induce healthier soil and grass and discover methods of controlling earthworm populations and reduce earthworm castings."

You will need to register with the show site at the above link before you can access the session at the below link.

http://www.golfcourseshow.com/GCSAAshow2000/Events/Events.html

An additional source of information on the Web "TurfTalk-Digest".

There is another turf related newsletter on the Internet called TurfTalk-Digest. It is moderated by Dr. Phil Busey based on submissions from professional turf managers, with a strong concentration in Florida. The content is mainly southern grasses but all turf managers should have a read as it also contains government issues and regulations and good turfgrass information. You can subscribe to Dr. Busey's TurfTalk-Digest by contacting him at:

turf@ufl.edu. You can post messages to turf professionals by writing to digest@turftalk.com which will also get you subscribed if you are not already. Further information is available at http://turftalk.com

Contributions to this publication.

I also want to invite all of you recipients of this newsletter that if you wish to contribute any information that you find interesting or exciting, please send it to me and I will include it along with crediting it's source. In addition, I get most of my new product ideas from Golf Course Superintendents who see a need in the industry that has not been filled. Be sure to look at the new products section on my web site for new additions to the line.

http://www.turf-tec.com/index.html

Looking back.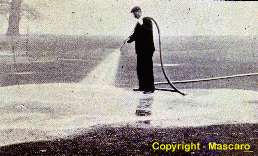 In the October 15th, 1924 Issue of The "Bulletin of the Green Section of the U.S. Golf Association" there was an article written where they asked several different Golf Courses of the time their opinion of watering putting greens. Mr. Walter S. Harban from Columbia Country Club in Washington D.C wrote the following: " I much prefer watering every day, to the generally accepted theory of watering two to three times a week. If after the soil is once deeply moistened, sufficient water is applied each day to take care of surface evaporation, the moisture below will be held for a long time and the necessity for long, deep watering will be avoided. Grass does not require excessive moisture, but just sufficient to supply its needs, and it should have this daily. A moderately moist soil is far better for the healthy development of turf, then wet, soggy ground. It should be remembered that the roots of the bent grasses are very shallow, not more then two inches deep, necessitating the presence of moisture in the ground at all times, though not an excessive amount."

I believe Mr. Harban was a superintendent at the time when daily watering was just starting to take hold. This was a monumental task with hoses as the water supply, however, in the interest of good turf, it was accomplished. Now we have tools like the Turf-Tec Moisture Sensor (

http://www.turf-tec.com/page2-g.html) to determine the percentage of moisture in the rootzone but the same rules still apply after 75 years of growing grass.

Privacy policies.

If you received this newsletter directly from

john@turf-tec.com, don't worry. I personally acquired your name by researching each golf course individually. In addition Turf-Tec does not buy, sell, trade or share their mailing list to anyone. We also have taken security measures to insure that your name will not be passed along to other people. If, however you still do not want to receive this newsletter, simply respond to this email with the words "remove" in the subject line and your name will be permanently deleted from our list.

If you have not received your free 1999 Turf-Tec Catalog call us toll free (800) 258-7477.

Home / Search Site / Catalog / Online Ordering / Map of site / Newsletter / On line consult / Contact us
History / Web Designs / Request Catalog / Search Engines
*Copyright 2002