Turf Stress Detection Glasses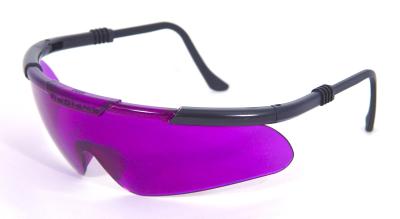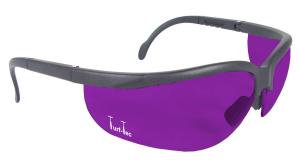 The Turf Stress Detection Glasses allows you to spot stressed turf close up or at a distance by simply wearing these high tech glasses. With these new Turf Stress Detection Glasses, you can spot problem areas on your grass before they become visually apparent. By spotting turf that is under stress early allows you to diagnose problems early by saving time and money.
Simply put the stress detection glasses on and the NASA Technology blocks out all the green coloring from the field of view. Any stress or change in plant health will appear as a different color then the surrounding plants.

If you look at any area of like plants, whether it is grass, trees, plants or shrubs, any difference can be quickly noticed. After the color change is notices further inspection can be made to determine what is the cause of the stress. Additional diagnostic tools like Moisture Sensors, Infrared thermometers and soil thermometers can also be useful in determining the cause of the plant stress.
| | | |
| --- | --- | --- |
| | | |
| Identify Anthracnose | Identify Yellow Patch or Rhizoctonia | Identify Pythium |
| | | |
| Identify Fusarium Patch | Identify Brown Patch | Identify Poa-Annua |
| | | |
| See locations of weeds for spot spraying | Spot Tree Stress | Determine Quality of Cut |
| | | |
| See dry spots and hydrophobic conditions | Identify hot spots for syringing or hand watering | Identify traffic wear |
How do they work ?
Basically the technology comes from NASA Scientists. The Turf Stress Detection Glasses were made to allow people in airplanes to fly over forests of the same variety of trees (Pine, Birch, Elm, Maple, etc...) and spot insect or disease pressure quickly. The Turf Stress Detection Glasses cut out all the green wave length light. When used on turf they do the same thing and show stressed turf as a yellow color.

The glasses will not only show drought stress, they will also show disease, different varieties of grass (contamination or mutation), insect pressure or infestation, shallow rooting or turf decline from any other environmental aspect. They also work on plants, trees, shrubs and in the greenhouse or any area that contains the same variety of plants in repetitive numbers.
In addition, for athletic fields, you can quickly identify faded painted lines as the special lens illuminates anything that was painted previously in white. Once you put them on, you can pick up the old line that were previously painted and freehand all the boxes, circles and arcs without pulling a string, thus saving valuable time.

Turf Stress Detection Glasses - TSDG5-N
Click here to see this item in the on-line catalog.
Click here to order this product.

Turf-Tec International
1471 Capital Circle NW, Suite # 13
Tallahassee, FL. 32303
Order Line (800) 258-7477
Phone (850) 580-4026
Fax (850) 580-4027

Home / Search Site / Catalog / Online Ordering / Map of site / Newsletter / On line consult / Contact us
History / Web Designs / Request Catalog / Search Engines
*Copyright 2015