Turf-Tec Soil pH Meter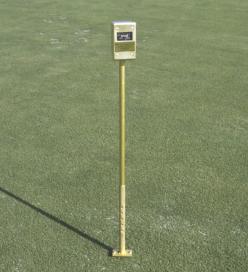 Test soil pH in the mat, thatch and above and below the root zone. pH can be checked, 0" to 4" inch level right on the turfgrass area. This information can tell whether pH problems exist in different layers of the profile which will not only effect nutrient uptake but improper pH can also inhibit root growth.
Simply insert probe to desired depth, allow to stand for 60 seconds, and read pH scale display window.
Specially designed probe depth control and stand.
The pH meter is a great instrument as it is a quick way to get pH readings in the soil at the 1", 2", 3" and 4" depth to see the variation of the soil layers. That means that pH can be checked in the thatch layer, in the root zone and directly below the root zone for a complete pH reading of the entire root zone profile.
For all turfgrass areas.
Now you can test soil reaction at different levels in the soil profile.
Check Soil pH on:

Golf greens, fairways, golf tees.
Seed beds.
Sports fields.
New construction.
Lawns.
Playgrounds.
Locate layers.
Check fertigation performance.

Specifications:

Easy to use.
Read out 3.5 to 9.0.
Readings within one minute.
Durable and reliable.
Adjustable foot from 1-4 inches deep.
Overall height 48 inches tall.
Weather proof non-corrosive metal.
The Turf-Tec pH Meter is ideal for taking many readings quickly in the field. If noticeable changes in pH readings occur from one test location to another test location in soil pH, then samples from those suspect areas can be taken and analyzed further though mixing a slurry or taking the samples to an accredited laboratory for analysis.
Completely self contained, no chemicals, batteries, or attachments needed.

pH meter, wires and probe are protected inside water-resistant instrument.

For testing soil reaction. Monitoring pH is the key to successful turfgrass management.

Determine when soil is acid or alkaline and at what level in the soil profile these changes occur.

Close up of Turf-Tec
pH Meter Face.

Top of Turf-Tec pH Meter
PH1-N Turf-Tec pH Meter
Click here to see this item in the catalog.
Click here to order this product.
---
Additional Accessories:
Turf-Tec International
1471 Capital Circle NW, Suite # 13
Tallahassee, FL. 32303
Order Line (800) 258-7477
Phone (850) 580-4026
Fax (850) 580-4027
---

Home / Search Site / Catalog / Online Ordering / Map of site / Newsletter / On line consult / Contact us
History / Web Designs / Request Catalog / Search Engines
*Copyright 2007