Combination pH and EC Pen by Hannah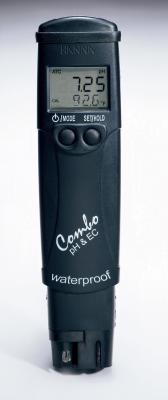 Combo pH and EC Pen Temperature in °C and °F
• Rugged, Floating Waterproof Casing
• Replaceable pH Electrode Featuring an Extendable Junction
The combination pH and EC Pen waterproof tester offers high accuracy pH, EC/TDS and temperature measurements in a single tester! No more switching between meters for your routine measurements. The waterproof Combo (it even floats) has a large easy-to- read, dual-level LCD and automatic shut off. pH and EC/TDS readings are automatically compensated for the effects of temperature (ATC). This technologically advanced tester has a replaceable pH electrode cartridge with an extendable cloth junction as well as an EC/TDS graphite electrode that resists contamination by salts and other substances. This gives the meter a greatly extended life. Your tester no longer needs to be thrown away when the pH sensor is exhausted. The EC/TDS conversion factor is user selectable as well as the temperature compensation coefficient (ß). Fast, efficient, accurate and portable, the Combo pH, EC/TDS and temperature tester brings you all the features you've asked for and more!
Now you can test your ph and salts (EC) in tank mixes, irrigation water, ponds, lakes, reservoirs, wells and even your fish tank with one easy to use pocket pen.

The unit is supplied complete with protective cap, electrode removal tool, batteries and instructions.
Specifications:

Range
0 to 3999 µS/cm EC, 0 to 2000 ppm TDS, 0.00 to 14.00 pH, 0.0 to 60.0 °C or 32.0 to 140.0 °F
Resolution
1 µS/cm EC, 1 ppm TDS, 0.01 pH, 0.1 °C or 0.1 °F
Accuracy (@20°C/68°F)
±2% F.S. EC/TDS, ±0.05 pH, ±0.5 °C or ±1 °F
Typical EMC Deviation
±2% F.S. EC/TDS, ±0.02 pH, ±1 °C or ±1 °F
Calibration
Automatic at 1 point EC/TDS, 1 or 2 points with 2 sets of memorized buffers pH
Temp. Compensation
BETA (ß) = adjustable from 0.0 to 2.4 per °C in increments of 0.1 EC/TDS, Automatic for pH
EC/TDS Conversion Factor
Adjustable from 0.45 to 1.00
Environment
0 to 50°C (32 to 122°F); R.H. 100%
Battery Type / Life
4 x 1.5V / 100 hours
Dimensions
163 x 40 x 26 mm (6.4 x 1.6 x 1.0")
Weight
85 g (3 oz.)
PHEP-EC-N - pH & EC Pen by Hannah
Click here to see this item in the on-line catalog.
Click here to order this product.
Additional Accessories:
Turf-Tec International
1471 Capital Circle NW, Suite # 13
Tallahassee, FL. 32303
Order Line (800) 258-7477
Phone (850) 580-4026
Fax (850) 580-4027

Home / Search Site / Catalog / Online Ordering / Map of site / Newsletter / On line consult / Contact us
History / Web Designs / Request Catalog / Search Engines
*Copyright 2007