Turf-Tec Holematic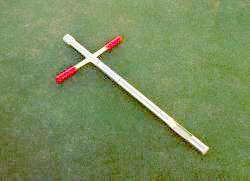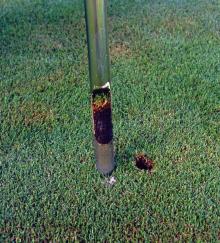 The Turf-Tec Holematic is designed to remove 1-1/2-inch soil cores out of the ground, eight inches deep up to 30 inches in total. The unit is designed to make a clean hole for many purposes.
Simply place Holematic over the soil and hit the specially designed anvil with a hammer until the unit is eight inches into the soil. The soil core is simply ejected out the specially designed discharge shoot. Pull up on the handles to remove the Holematic from the ground. The Holematic can then be moved to a new location and make another hole or re-inserted to remove deeper soil cores. Never has there been an easier way to make a clean, 1 1/2" diameter hole in any type soil. The Holematic works in soft soils, hard soils, rocky soils, wet soils, dry soils and soils with roots or buried debris.
Uses for Turf-Tec Holematic include: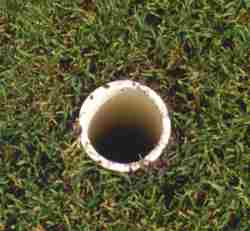 Setting PVC sleeves or pipe in the ground for PVC markers.
Installing ground sockets for marking systems and fairway yardage markers.
Installing out of bound markers.
For ease of tree fertilization, Holematic can dig holes near tree roots for fertilizer placement.
Holematic can take 1 1/2" core samples for laboratory analysis in even the hardest soils.
Holes for French drains can be made in any area.
Baseball diamond clay can be cored through and drying materials can be poured down the open holes.
Temporary fences can be erected quickly with the Holematic.
Installing 1 1/2-inch termite traps.
Holematic can be used for soil testing of water seepage problems.
Sand traps can be drained without drilling and mixing soil with sand.
| | |
| --- | --- |
| Specifications: | Features |
| Hammer anvil on top. | Makes a hole in even hard soils. |
| Solid steel welded construction. | Ejects the core cleanly. |
| Zinc plated steel for long lasting outdoor protection. | No electricity or gas powered equipment needed to dig holes. |
| Sharpened cutter blade. | Can dig 1 1/2" holes up to 29" deep. |
| Handle grips for comfort. | Ejected soil will not mix with surrounding soil or clay. |
| Unit is 38" X 17 1/2" X 2" inches. | Clean hole allows tight fit of 1 1/2" pipe. |
| Weight 8 lbs. (without box) | Unit is extremely durable. |
| Holes up to 29 inches deep can be made. | Holes can be made anywhere without the need for power tools. |
HM1-M - Holematic 1 1/2" Model
Click here to see this item in the on-line catalog.
Click here to order this product.
Turf-Tec International
1471 Capital Circle NW, Suite # 13
Tallahassee, FL. 32303
Order Line (800) 258-7477
Phone (850) 580-4026
Fax (850) 580-4027

Home / Search Site / Catalog / Online Ordering / Map of site / Newsletter / On line consult / Contact us
History / Web Designs / Request Catalog / Search Engines
*Copyright 2007