Turf-Tec Holey-Fier - Sorry Discontinued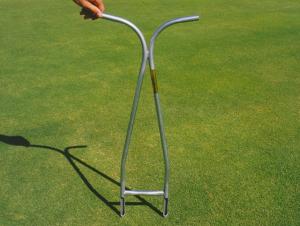 The Home Lawn Aerifier for aerifying compacted areas and dry spots.
-Want to aggressively attack the causes of many lawn problems instead of attacking symptoms?
-Put the power of nature on your side and attack fundamental issues like dead grass build-up and compaction. See wonderful results when you optimize conditions above and below the surface
-Many of these problems can be attacked with the Holey-Fier, a homeowner version of a tool used on golf courses for ages!
(This may be the best kept secret of the last two centuries.)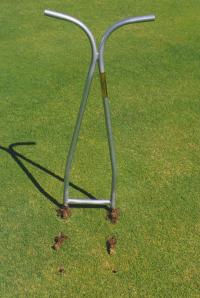 Simply push the Holey-Fier into the soil with your foot and pull out. The soil is removed leaving behind open holes. Air, water and Nutrients will get into the open holes and will encourage deep roots.
Often, problems on the surface like yellow grass, unhealthy grass, diseased grass are caused by compacted soils. Everybody understands the importance of water to your lawn yet many people donít realize the importance of air. Without air, the root system would die. Compacted soils make it hard for air to penetrate the pores in soil. The Holey-Fier removes a core of soil leaving empty spaces behind. The remaining soil moves in and loosens the dirt.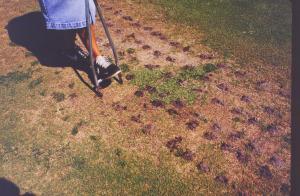 Specifications:
All Steel.
One Piece Welded Construction.
Galvanized To Prevent Rust.
Half Inch Open Spoons.
Made to last a long time!
Turf-Tec Holey-Fier - HF1-M

Sorry Discontinued

Turf-Tec International
1471 Capital Circle NW, Suite # 13
Tallahassee, FL. 32303
Order Line (800) 258-7477
Phone (850) 580-4026
Fax (850) 580-4027

Home / Search Site / Catalog / Online Ordering / Map of site / Newsletter / On line consult / Contact us
History / Web Designs / Request Catalog / Search Engines
*Copyright 2007