Aeri-Forke - Hand Aerifier - Sorry Discontinued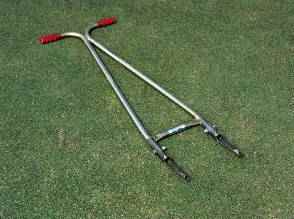 For Aerifying Dry Spots And Hard To Get Places
Specifications:
All Steel one piece welded construction.
Resilient hand grips.
Half inch thatch spoons for plug removal.
Rugged and easy to use.
A Spot Aerifier for dry spots, ends of cart paths, between greens and bunkers, around sprinkler heads, tops of mounds, etc…
The Aeri-Forke is the perfect hand tool to aerify small areas. Crew members should carry one in their work vehicles, ready to use whenever they see signs of compaction or dry spots.
Simply push the Aeri-Forke into the soil with your foot, pull back on the handle, and watch the soil being loosened and cultivated with no effort.
Air, water and nutrients will encourage deep roots, use the Aeri-Forke when feeding small trees and shrubs.
Made to last a long time!
AF1-M - Turf-Tec Aeri-Forke
Sorry Discontinued Item
Turf-Tec International
1471 Capital Circle NW, Suite # 13
Tallahassee, FL. 32303
Order Line (800) 258-7477
Phone (850) 580-4026
Fax (850) 580-4027

Home / Search Site / Catalog / Online Ordering / Map of site / Newsletter / On line consult / Contact us
History / Web Designs / Request Catalog / Search Engines
*Copyright 2007